With another summer at the Jersey Shore drawing to a close, we look back fondly on a fun and wedding filled season. This past summer was chock-a-block with sunny weekends and beautiful brides, from the beaches of Long Branch to the rolling vineyards of New Egypt.
Gearing up for the fall is just as exciting! We are packing away paper lanterns and exchanging them for fall leaves. The beautiful textures, warm candlelight and the scents and essence of the cooler fall days jump start our creativity.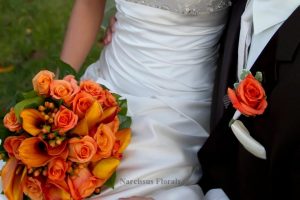 At Narcissus we take advantage of the last full week of August and first of September to retool our shop as we usher in a new season. (All while making some time to visit our friends in Flushing Meadows to take in a bit of the US Open of course.)
Working with birch branches and oak leaves our store front will take on a "nostalgic/classic fall" look for the early part of the season. Suspending large birch branches in parallel formations and hanging treated oak along a rustic rope will greet our clients and friends alike at the entrance to our Toms River shop.
Autumn is a great time to bring a bit of the outdoors in to just about any home. Natural, graceful branches in a tall glass vessel accompanied by sheaves of wheat and bittersweet seemingly rambling through the food display as if on the floor of a deciduous forest is sure to please. Your harvest buffet will delight your guests with this attention to detail and surely kick off some great conversation.
Narcissus Florals has been serving the greater NJ Shore since 1989. Call, click or stop into our Toms River, NJ shop today!