Meet the team at Narcissus!  Here are some fun/sometimes interesting facts about us.

KEN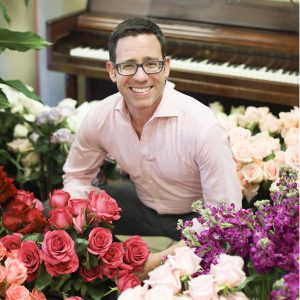 Home Base:  Toms River, NJ
Resume:  Artist, florist, small business owner, political junky, world traveler
Style Mantra:  "God is in the details."
Fashion Icon:  James Bond, (Connery or the new guy)
Can't Live Without:  Great Friends, Family and a stiff drink
Quotable Quote:  "We're gaining on it…"
Artist Crush:  J.M.W. Turner
Favorite Word: Spinelli
THOMAS
Home Base: Toms River, NJ
Resume:  Original owner of Narcissus Florals.  Owned floral business for 35 years.

Style Mantra:  High style
Fashion Icon:  Hugo Boss
Can't Live Without:  My family
Quotable Quote:  If you can't stand the heat, get out of the kitchen
Artist Crush:  Monet
Favorite Word:  Obtuse
MARY
Home Base:  Toms River, NJ
Resume:  Chief Librarian (retired!)Ocean County Library Manager of Volunteers and

Outreach, Caregiver Volunteers of Central Jersey Community Organizer!!
Style Mantra:  "Clean"
Fashion Icon:  Kasper
Can't Live Without:  "My guys"
Quotable Quote:   Have Fun!
Artistic Crush:  Monet
Favorite Word:   DANCE!
JUDI
Home Base:  Toms River, NJ

Resume:  34 years in the flower business and customer service
Style Mantra:  The best preparation for tomorrow is doing your best today!
Fashion Icon:  Lady Gaga, Elton John
Can't Live Without:  My family and my quiet time, on occasion!
Quotable Quote:  It's six of one and half dozen of the other!
Artist Crush:  Michael Godard
Favorite word:  Artichoke
LINDA
Home Base: Toms River
Resume:  Bachelor's Degree Bucknell U., Biology.  20 yrs. in Environmental Testing as an
inorganic chemist and microbiologist. Took 6 yrs off to be a full time mom and then started my current career as Business Manager.  It keeps my intellectual juices running.
Style Mantra: Less is more
Fashion Icon: Princess Diana
Can't Live Without:  My bike
Quotable Quote:  All you need is love….and granddaughters.
Favorite Word: Voila!
CHARLES
Home Base:  Growing up in central Florida and having the opportunity to live in several regions of the country. I have made The Jersey Shore my home.
Resume:  After 15 years as a stylist I took my talents and transformed them to the floral industry and used my capabilities becoming an in house Décor Manager for the Ritz – Carlton LLC. for 10 years during which I received my certifications for Event and Wedding Planning and Designing. Recently I have transition into the privet sector of the floral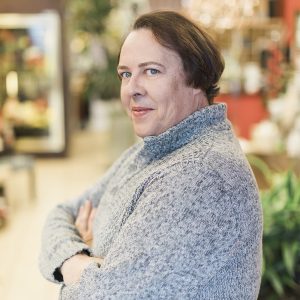 industry, where I joined one of the premier floral specialists Narcissus Florals to further my career.
Style Mantra:  Never look at things as they are look at what they can be… Whenever I am doing a design whether it be furniture, a vessel or, even a item that a client brings me to work with from alongside the road I look at it to see how many ways I can use it to create a moment.
Artist Crush:  As there are many artist in the world past present and future famous and not so famous in many aspects with so numerous to mention. Although my favorite artist gathering happens every year at Miami's Art Basel where artist from around the world come together to display their latest creations for the world to experience. After attending several times this has become my artist crush after all "Art is in the eye of the beholder ".
Fashion Icon:  Martha Stewart, I know I know / but you have to admit the idea of taking something that is just plain and unattractive throwing some glitter on it with some glue and adding a few other touches makes it look like you spent a lot of money for it. I like to call this a Martha moment, I look at everyone and everything to see what I can take from for inspiration to add to my talents so keep adding and growing.
Can't Live Without:  Creativity / for me creativity is everything.
Quotable Quote:  I have two favorites, It's all smoke and mirrors and fake it till you make it.
Favorite Word:  Mmmmmmmm…Hmmmmmmm
BRADY
Home Base:  Toms River, New Jersey
Resume:  Graduated with a B.S. in Horticulture with an emphasis in Landscape Design from Kansas State University. In high school, I was an active member of Art Society, FFA,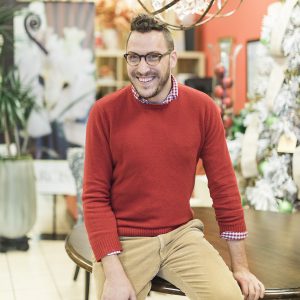 the Prebytery of Nothern Kansas, Eco-Meet and Envirothon. During college I participated in MACHS (Mid-American Collegiate Horticultural Society), Horticulture Club, Acacia Fraternity and the Columbian Community Theatre.
Style Mantra:  Creative, colorful and classic.
Fashion Icons:  Jacqueline Kennedy Onassis, Grace Kelly and Katharine Hepburn
Can't Live Without:  Vodka, Broadways musicals, pasta and cheese.
Quotable Quote:  "Ad astra per aspera" which in Latin means, To the stars through difficulties.
Artist Crush:  Vincent Van Gogh, Judy Garland and Marilyn Monroe
Favorite Word:  Sincerity
Also on our amazing team:
Glenn G
Daniel D
Hunter G.
Newlyweds Ken Malagiere and husband Jonathan Petro on the meaning of marriage.  Please take a look at this video after the initial commercial!